Injustice is, in the tradition of the Director's radical film-making, a somewhat incidental film. It was inspired by my own conviction, punishment, and what I experienced therein. My utter discombobulation at my own court proceedings led me to ask: if this could happen to me, what about others?
Although far from a naïve person, my conviction introduced me to a range of characters whose lives before, during and after conviction made me determined to utilise the experience positively, to seek reform and address the mythologies about crime, punishment and prison.
The impetus for the film was a visit to the ex-prisoner Gethin Jones in Portsmouth. Gethin had turned his life around, and continues to do so, by creating a project that he can eventually use to help others. Once I heard about this, I offered to make a promotional film for him. During the filming Geth agreed to do an interview for a potential film.
His account set the film in motion. From then on, it was a case of following the leads – it is a convict-led film.
As other ex-prisoners came to attention, and prison campaigners and reformers moved into purview, themes, concepts and stories began to emerge. It is only by following these leads, rather than projecting ideas onto interviewees that the film chapters began to assemble.
It soon became clear that innocence or guilt aside, there were grave problems with the justice and prison systems, which were dramatically illustrated by the 2016-2017 prison riots.
As that errant philosopher Michel Foucault put it, prisons are the dark zone, and Injustice hopes to shine a light the public can see.
A very poor film.
Having lost my job and home, my then partner and would-be editor and I found ourselves in a precarious position for film making, we moved from town to town with equipment and belongings in ruck sacks, nabbing food and wine where we could, trudging around from interview to interview.
It's the little things that bugged me. Going hungry unless we steal food. Walking through the rain with holes in my shoes – it makes them stink!
Begging for money from wonderful friends. The back ache from lugging belongings and equipment everywhere I go. The sleeplessness, and not knowing in which friend's house I stashed this, that or the other piece of equipment.
With no job and kids to feed, times were hard. Do I send money to their Mum or pay for travel to London? She's understanding and knows things will come good again. As for the kids, well they were just relieved that Daddy didn't have to go away to "work overseas" for a few months.
I have to admit that intoxication took some money too, although it was more often stolen or begged. It is weak, very weak of me, but I sought solace from my utter destruction in that escapism for quite some time.
For the film itself I organised a crowd-funder, which raised enough to cover a few interviews but little more.
Just as the crowd-funder had ended, and in a state of financial dire-straights, an Anonymous Angel swept down with an offer of significant funding.
The funder asked no questions of me beyond whether the film would make an impact, and I asked no questions about why this anonymous donor was interested in helping a struggling convicted film-maker who they knew nothing of. I do ponder still, but not too much.
By that time it had become apparent that the whole situation of conviction, poverty and homelessness had become too much for my partner, and our relationship ended.
She told me she found that even sending a Tweet to promote the film, let alone getting to grips with editing, simply reignited the trauma of court and the subsequent witch hunt based on demonstrable lies…or at least forgetfulness.
I hadn't realised the toll everything had taken on her or understood why, despite commitments to do so, so little had been done. I guess the partners of convicts understand only too well – they could be doing so much more enjoyable and fulfilling things.
It was frustrating in terms of the film and sad in terms of the relationship, but I suppose the film has become something of an obsession. As I told the Anonymous Angel, it must be made, it will be made, come what may.
So the film was reduced to a crew of one.
Of Hell and High Water
The high points during the film-making weren't very high and it's hardly an exaggeration to suggest the low points to have been only a few centimetres above hell.
It's a strange experience to have such hermeneutic understanding of interviewees. Families, friends and prisoners themselves must experience it frequently – telling tales of conviction is like reading souls.
It really is the case that, as Marcus said in one of the interviews, you just don't know until it happens to you.
And the way you experience it is profound. Right now I'm thinking of the friends who disappeared, of how much more comfortable I feel with convicts and their families. I think of my convict friend Wayne, and that unspoken understanding every time we see each other.
Perhaps the most difficult interview was Marcus and Karolina. That was during the depths. With no home, no food, hardly enough money for transport, I found myself walking miles through the outskirts of London to find them.
Marcus and I originally met at a prison conference, and was drawn to him immediately. I don't think I've ever seen anyone whose being was so expressive of his trauma. It seems good people are so much more affected by injustices.
He was sticking by a mate inside and his wife. I found out later that his fortitude was very much a choice. He had given everything to support this couple, at enormous detriment to himself. Karolina had similarly given her all to support her imprisoned boyfriend who she then married inside.
I think of him often. I wonder what he was like before this mess, and why he took on the burden of standing up for someone most others had abandoned. I wondered similarly about my own friends.
Marcus's and Karolina's interview crushed me.  I had some sense of what it must be like, but having escaped a custodial sentence I had only a taste, a whiff.
As I've written elsewhere, if there's a love in its purest form, it's the love that wives, girlfriends, husbands and boyfriends have for those inside. It makes me cry, as I'm doing now.
Around this time an old friend put me up in her place, giving me some time and space to edit. No heating, no hot water, no internet, but electricity, a bed, a cooker and fridge.
I do work best on my own, but it was hard then, especially when I know my priorities should have been with my children, but sometimes one can't disentangle matters so easily. Besides, my kids are very understanding.
Around that time Charlotte Sexauer came on board to help produce and promote the film, taking a good deal of the weight off my shoulders. Seriously, if anyone ever needs anyone to do anything, employ her!
But as tends to be the case these days with the highs, the slight upswing in providence was met with a significant downswing. I had to move out of the place I was staying, and found myself on the street, belongings in plastic bags, weeping in frustration.
It didn't help that this took place shortly after my video camera was blown off its stand while filming a charity event. Damn you charity!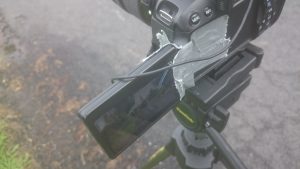 The only saving grace was that I had finished the last interview, itself vying with Marcus and Katerina to be the most emotionally ruinous.
The interview with Charlotte Henry was a weep-athon. Her brother had been convicted for a murder he hadn't even been accused of, such is the absurdity of Joint Enterprise.
I was sad for him, but to see a young woman so strong, so determined, so dedicated was… well… as Wittgenstein wrote, whereof we cannot speak, thereof we must pass over in silence. Or something like that.
The money from the Anonymous Angel enabled me to pay for a team to help out with some of the more technical and creative aspects of the film, which frankly I lack the skill and flair to undertake myself.
They're a good bunch. They seem to get it. They don't ask questions. I can't wait to recommend them. I do chat with mates about what they think of me. They don't know me name, and our meetings tend to be in mates' bedrooms or wherever I am. Hardly Hollywood!
I'm not sure what the Anonymous Angel thinks of me. Sometimes she sends a one-line email asking how things are. I tend to send her 5 page emails back telling her exactly how they are.
At my lowest ebb, the Angel came back with another offer of more money. This time I'd requested to work for it, which I am still doing. Without the Angel, the film wouldn't be done in the way it is, and I have no idea what darkness would have swept over my life.
Disarray, final fears and the last steps.
Things are moving into shape for the film and me. Life is still precarious, but strangely as we move to the end of the film, pieces are settling into shape. I am fortunate. I have a strong, loving family and as I moved out of my self-imposed exile, I realise I have friends who are simply the best one could hope for.
Some of them have come forward to help out with this or that aspect of the film, yet it does feel an exceptionally lonely process at times.
Where the original editor felt the film reignited past trauma, it reflects for me a time that I'm almost glad that happened for opening my eyes so widely, but which I also wouldn't wish on my worst enemy.
Every aspect of the film, every word spoken, every image I see drags me back into a whirlwind or trauma, torment and heartbreak. It has become the proverbial ball and chain you see cartoon villains dragging behind them.  To be frank I just want away from it but I can't, just as I can't get away from the lies spoken and written about me – I pleaded not guilty, by the way, which I maintain today.
"Don't let it define you, let go", people say. They're well-meaning but ineffective words. As Penelope Gibbs said in her interview, things are much harder for those who maintain at least partial innocence. We can't repent, we can't reconcile, we can't ask for forgiveness, and we can't stop the thoughts going around and around in our heads.
Most of all, though, I don't want to walk away from this must awful aspect of our society, of our so-called civilisation.
I fear that after the film I will no longer be able to dedicate myself to such a cause because the pressing issue of money continues to haunt me. I wish I could work within a support organisation, but either they shy away from convicts or I wouldn't be able to get security clearance to carry out the role.
In the meantime the film team staggers towards the finishing line, with the expected bumps and crashes.
Between the sound editor, picture grader and editor relationships ended, accommodation vanished and, just a week or so ago, the hard drive with the final edit died. Yet we persevere.
Rays of light start to shine as key people agree to speak at screenings, key venues hint they may carry the film. Friends respond positively to requests for help to arrange screenings.
Yet despite the struggle so far, the journey is not over yet.
As I always say, making the film is the easy part, getting it out there is where the hard work really begins. When I say it's a "radical film" I mean it comes from the roots of society – there's no production company, no TV station, nothing. It is at this stage where we really need to start reaching out, and I only hope you can help us push the film to the next stage. Seriously, it's fucking killing me.